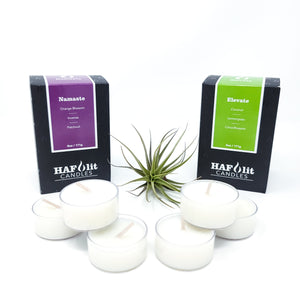 Can't decide? Do you need to physically experience our fragrances in person? We know that choosing the fragrance of a candle can be difficult, especially online. Let us help you decide by choosing a few of our little tea light sampler candles. 

Choose up to 3 different fragrances

Details:
Net wt: 0.5oz, 14g
Burntime: 2-4 hours
All natural and renewable coconut-hemp wax (burns clean with no soot!)
Scented with phthalate free fragrance oils (none of those toxic chemicals)
Cotton wick (free of lead and heavy metals)
Recyclable and Flame-retardant clear container 
Size: 0.75"(19mm) H and 1.5" (38mm) D
Hand poured in California, USA
Does not contain THC or CBD

Each candle is handcrafted in small batches in our Santa Ynez, California studio. Candles are shipped within 2 business days of ordering.