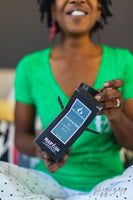 Crafted for the Canna Flower Enthusiast
Finally a lifestyle-inspired candle that doesn't scream stoner, and exudes the quality and sophistication you would expect of any other high-end home fragrance accessory.
At HAFlit Candles, we are proud to share our enthusiasm for the canna lifestyle by creating a luxury scented coconut-hemp wax candle, hand-poured into a sensuous, matte black glass jar, meant to be repurposed (makes a pretty dope stash jar).
Our phthalate-free fragrances are inspired by the moods canna flower creates when we share with our family and friends. We hope the experiences we poured into this vessel are embraced when you get lit.
Shop Now